It's that time of year again when the brightest minds in Optical Networking converge at the European Conference on Optical Communication (ECOC) to showcase the latest progress in optical technologies through various selected papers, demo sessions, keynotes, workshops and special symposia. In its 44th year, the ECOC 2018 conference will take place from September 23 – 27th in Rome, Italy and you can count on Nokia Bell Labs to be there in full force.
In typical Nokia Bell Labs-fashion, we are used to pushing the boundaries in our research and in the spirit of the Shannon Limit, we thought we would take our ECOC contributions to the absolute limit this year.
Please follow us on Twitter at @BellLabs and share feedback and photos of our contributions on social media by tagging your posts with @BellLabs and "#ECOC18". Thanks and enjoy the show!
A few highlights of our presence at ECOC 2018 include:
September 24th
Presentation: "Nonlinear Interactions in Fibers Supporting Multiples Spatial Modes" at 4:30pm in the Euphemia Room
Our own René-Jean Essiambre will discuss intermodal nonlinear interactions present in fibers supporting multiple spatial modes that are linearly coupled or uncoupled.
September 25th
Presentation: "200Gb/s Transmission over 20km of FMF Fiber using Mode Group Multiplexing and Direct Detection" at 10am in the Giulia Room
Nokia Bell Labs along with Prysmian Group and Cali Labs will demonstrate 200Gb/s bidirectional transmission over 20km of step-index FMF fiber using selective excitation of 4 mode groups, direct detection and a single laser in each propagative direction.
Lab Automation Hackathon at 1:30pm in the Iustina Room
Have you ever wanted to automate your lab, work better/quicker at processing your data, make beautiful plots and figures and at the same time meet a bunch of cool scientists? Well, you are in luck! Join Nokia Bell Labs, Chalmers University of Technology and Acacia Communications as we showcase 8 demos for various common lab automation tasks, ranging from simple remote control of optical instrumentation, data processing and photonic design simulations, all the way to full lab automation. Students, professionals of all levels are welcome to learn and share their secret tips and tricks developed over the years.
Demo: "Seamless Optical Path Restoration with Just-in-Time Resource Allocation Leveraging Machine Learning" at 1:30pm in Hall 9
Nokia Bell Labs and Orange Labs will present an experimental proof-of-concept on just-in-time resource allocation in elastic optical networks to provide seamless path restoration. Our method relies on state of polarization monitoring with a standard coherent receiver paired with machine learning for proactive fiber cut detection.
Demo: "Interactive Automated Fiber Type Identification" at 1:30pm in Hall 9
Nokia Bell Labs and Scuola Superiore Sant'Anna demonstrate in real-time the identification of the type of a deployed fiber in a network without traffic interruption, through the correlation of monitored dispersion values at different coherent receivers. The application is integrated into an SDN control plane.
Presentation: "3.6-Tbps Duobinary 16-QAM Transmission with Improved Tolerance to Cascaded ROADM Filtering Penalty" at 1:45pm in the Giulia Room
We are demonstrating a 3.6-Tb/s 9-channel duobinary 16-QAM transmission over a 1700-km link impaired by cascaded ROADMs. With improved tolerance to the narrow filtering effect, the duobinary shaped QAM extends the reach by 27% compared to the conventional QAM.
Tutorial: "SDM: promises, achievements and future perspectives" at 1:45pm in the Flavia Room
Peter Winzer, winner of the 2018 John Tyndall Award for his contributions to understanding and advancing the capacity of coherent optical communication systems including advanced modulation formats and spatial multiplexing, will discuss the latest in Space Division Multiplexing and what we can expect in the future for optical communications.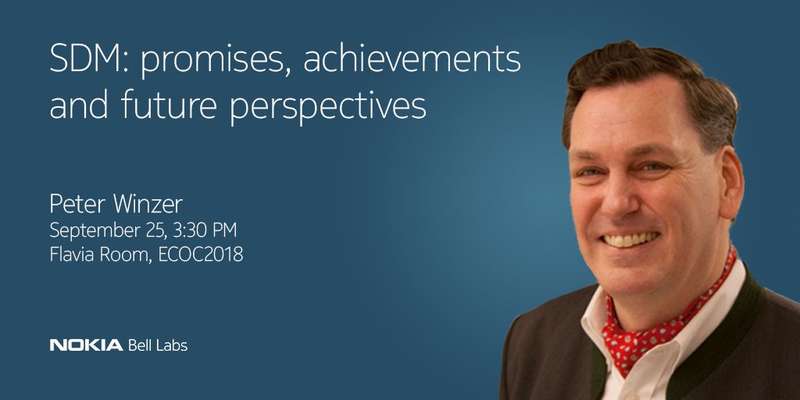 September 26th
Poster presentation: "Statistics of the Eigenvalues of a Noisy Multi-Soliton Pulse" at 11am in Hall 9
Join Nokia Bell Labs and Technical University of Munich as we unveil our poster. For Nonlinear-Frequency Division-Multiplexed (NFDM) systems, the statistics of the received nonlinear spectrum in the presence of additive white Gaussian noise (AWGN) is an open problem. We present a novel method, based on the Fourier collocation algorithm, to compute these statistics.
Poster presentation: "1.53-Tbps CPRI-Equivalent Data Rate Transmission with Kramers-Kronig Receiver for Mobile Fronthaul Links" at 4:15pm in the Baebiana Room
For the first time, we will demonstrate an intermediate frequency-over-Fiber (IFoF) transmission system using direct detection with a Kramers-Kronig receiver, achieving record CPRI-equivalent data rates of 1.28 Tb/s and 1.53 Tb/s over 40 km and 20 km of SMF, respectively.
September 27th
Presentation: "Performance Metrics for Communication Systems with Forward Error Correction" at 9:30am in the Flavia Room
Laurent Schmalen will revisit performance metrics for optical communication systems with Forward Error Correction (FEC). He will illustrate the concept of universality and discuss the most widespread performance thresholds. Finally, Laurent will show by example how to include FEC into transmission experiments.
Presentation: "Information Rate of Probabilistically Shaped QAM with Non-Ideal Forward Error Correction" at 10:00am in the Hortensia Room
This presentation will discuss how simulations and experiments using probabilistically shaped QAM quantify the impact of non-ideal coding on the information rate. A coding gap induces an information rate loss that increases with the underlying constellation size, favoring lower-order QAM templates.